Beyond the College Degree – A Parent's Worry
About a year ago at this time, we posted a blog entry about high college costs triggering the most financial worry among the younger generation. That was according to nationally renowned polling firm Gallup.
This year, Gallup reports that college costs are the top financial worry among parents in the United States  – More than any other group of Americans and more than worry over catastrophic medical costs and saving for retirement.
As this chart shows, 73 percent of parents with children younger than 18 worry about college funding. Lower income Americans concerned about the cost of medical emergencies came in second at 70 percent: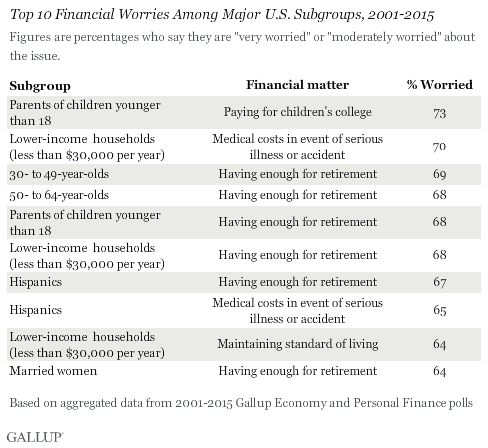 Parents' worry is understandable. College costs have risen at FIVE Times the cost of inflation and 37 million Americans have outstanding student loan debt. And a slimmer job market for college graduates often means that debt-ridden grads compete with non-degree holders for jobs that require only a high school diploma – or less.
The point made in the previous post still stands today, perhaps even more so with so many parents now concerned about the affordability of higher education:
"Perhaps a more thorough evaluation is in order to weigh the true need for a college degree versus the affordability, and include more educational options for life after high school. Community colleges offer much cheaper training and classes with credits that often transfer to the bigger schools. There are vocational or proprietary schools for those who know they'd like to specialize in a particular area. The nation also faces a huge gap in the number of newly skilled tradespeople. Jobs for electricians, plumbers, welders and others often pay well and lead many students to become business leaders themselves.
Many people find the most effective path to success in a college degree. But this isn't the case for everyone. We owe it to our nation's young people to encourage opportunities for success that are not always tied to an expensive degree."